Today's (Optional) Writing Prompt: Are you a people person? Do you feel energized or drained around people? What are some of your favorite types of encounters or tell me a story of one!
 I have never been one to fit into any box or category or personality profile.
Myers-Briggs, one so many people swear by, isn't even helpful for me. The most accurate way to describe me by their scale is "a little bit of everything". Don't get me started on the Introvert or the Extrovert. I am both. I am either an Introverted Extrovert or an Extroverted Introvert.
People ask me, "Well, are you energized by people or do they suck the life out of you?"
"It depends on the people," I answer.
It also depends on my mood.
There are times when I want to be locked away in a garret with my computer, my notebooks, my art projects and possibly my dogs who I would hire a dog walker to silently take out three times a day.
There are times when people fill me like nothing else: I love to collaborate and probably one of my favorite places to "hang out" is creating separately together. I do this as much as I can: I gather with my friends and we each do our own thing, working on our own projects, yet we share a space. We groove off each other's productive vibe but we aren't exactly creating together, we are creating separately together.
One of my friends laments our lack of collaboration.
Well, I insist on spending my time creating along my passion, not anyone else's.
He takes it personally that his prokects don't match my desires. It isn't personal, in fact I think Viva la Difference! But that falls on hurt ears.
Instead I sometimes allow the guilt we wove to drag me out of creative focus. This works for no one unless you consider a wall of resentment a creative project worthy of my attention.
So, am I a people person?
Yes.
And No.
And five minutes are…. UP!
  This was my 5 minute Stream of Consciousness Sunday post. It's five minutes of your time and a brain dump. Want to try it? Here are the rules…
Set a timer and write for 5 minutes.

Write an intro to the post if you want but don't edit the post. No proofreading or spellchecking. This is writing in the raw.

Publish it somewhere. Anywhere. The back door to your blog if you want. But make it accessible.

Add the Stream of Consciousness Sunday badge to your post.

Link up your post at AllThingsFadra.com

Visit your fellow bloggers and show some love.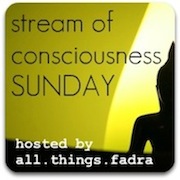 Julie Jordan Scott has been a Life & Creativity Coach, Writer, Facilitator and Teleclass Leader since 1999. She is also an award winning Actor, Director, Artist and Mother Extraordinaire. She was twice the StoryTelling Slam champion in Bakersfield. She teaches a teleclass/ecourse "Discover the Power of Writing & Telling Engaging, Enlightening Stories" which begins again May 23, 2012. Find details by clicking this link.
Did you enjoyed this essay? Receive emails directly to your inbox for Free from Julie Jordan Scott via the Daily Passion Activator. One inspirational essay and poem (almost) every week day. Subscribe here now -
Subscribe to DailyPassionActivator
Powered by us.groups.yahoo.com