Today's (Optional) Writing Prompt:
What is going home like for you? Do you still live in your same hometown? What kind of memories do you have associated with the place you grew up?
Well, it goes something like this....
I am sitting at my desk, out of breath, after nesting like crazy because my eldest daughter is coming home today AND we are hosting a couchsurfer tonight and tomorrow night. I always seem to procrastinate just enough to feel a mad scramble before arrivals. Maybe it is that I think it is somehow more exciting this way.
Nonetheless, the question today stumped me. I sometimes debate when proclaiming where I grew up. I lived in Glen Ridge, New Jersey, but I don't have family there nor many friends still there. I have history there. I have a love for the place. I have not visited there in nearly nineteen years. I would love to visit again. Of all the places I have lived, this one probably fits me the best.
Isn't that ironic? I hadn't even put those pieces into place until just now.
I moved when I was fifteen to Dana Point, California. I disliked my second high school so much I graduated early.
Most of my true growing up, though, has happened right here in Bakersfield which is where I have somehow managed to live the longest. It isn't because it is my home of desire, it just sort of happened. I have probably written here that I want to get out of here, but I never seem to be able to figure out the how to it.
Where I grew up there are a lot of smart people, it is in close proximity to New York City, not far from Boston and Washington. I remember cold in the Winter, humid in the Summer, lots of families with many children, everyone knowing each other. Here, I get fog in the Winter, Hot Hot Hot in the Summer. I do know a lot of people but none of them know me very well, really.
I judge knowing well on things like knowing what pizza I like and what my favorite movie is and knowing my day-to-day routine.
I feel like I still have a lot of growing to do.
And with that, I have laundry to finish and guess what?
My five minutes are.... over....
  This was my 5 minute Stream of Consciousness Sunday post. It's five minutes of your time and a brain dump. Want to try it? Here are the rules…
Set a timer and write for 5 minutes.

Write an intro to the post if you want but don't edit the post. No proofreading or spellchecking. This is writing in the raw.

Publish it somewhere. Anywhere. The back door to your blog if you want. But make it accessible.

Add the Stream of Consciousness Sunday badge to your post.

Link up your post at AllThingsFadra.com

Visit your fellow bloggers and show some love.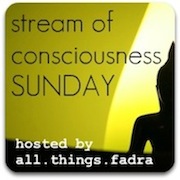 Julie Jordan Scott has been a Life & Creativity Coach, Writer, Facilitator and Teleclass Leader since 1999. She is also an award winning Actor, Director, Artist and Mother Extraordinaire. She was twice the StoryTelling Slam champion in Bakersfield. She teaches a teleclass/ecourse "Discover the Power of Writing & Telling Engaging, Enlightening Stories" which begins again May 23, 2012. Find details by clicking this link.
Did you enjoyed this essay? Receive emails directly to your inbox for Free from Julie Jordan Scott via the Daily Passion Activator. One inspirational essay and poem (almost) every week day. Subscribe here now -
Subscribe to DailyPassionActivator
Powered by us.groups.yahoo.com