Today I opted to choose a different topic for the Stream of Consciousness Sunday then the optional prompt. Instead I created my own.

My theme: A Slice of "How I Surprise Myself Pie"
I surprised myself once again last night and yes, yesterday afternoon.
Here is the story of one of them ~
This weekend I did yet another thing I have never done. I was the Emcee for a Cabaret and Comedy show.
I went to watch the final rehearsal but I only watched. When I told the theater founder I was going to Emcee he said, "Oh, are you going to be funny?"
Sometimes I am a bonehead. I didn't know I was supposed to be funny as an Emcee. You would think it would occur to me: funny is what Emcee's are: they keep the ball rolling in between major acts and scenes. They banter, they connect to the audience, they tell jokes?
Yes, they tell jokes.
Amidst a crazy busy Thursday, Friday and Saturday before dark, I researched some humor I thought would fit the audience. At 8:30 pm on Saturday I was backstage with my hair curled, my make up on and my confidence at negative zero or close to it. I reviewed my notes before I got thrown in front of an audience waiting for a bunch of gorgeous dancers, not particularly there to hear me attempt to be funny.
I did my intros and then, I was out.
I was back after the first dance and explained my story: I didn't know I was supposed to be funny. (This not knowing is pretty darn funny so the audience laughed. I am not certain if they believed me or not, but that is my story and I am sticking to it!)
I launched into two stories/jokes and both brought much bigger laughs than I thought they would. I couldn't quite believe my ears.
They were enjoying my stuff… a lot.
I was asked to come back for the next show, too. I think I will but maybe I'll take some classes while I am at it. I am envious of those dancers! If I could do 1/10th of what they do, I would surprise myself again!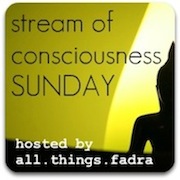 This was my 5 minute Stream of Consciousness Sunday post. It's five minutes of your time and a brain dump. Want to try it? Here are the rules…
Set a timer and write for 5 minutes.
Write an intro to the post if you want but don't edit the post. No proofreading or spellchecking. This is writing in the raw.
Publish it somewhere. Anywhere. The back door to your blog if you want. But make it accessible.
Add the Stream of Consciousness Sunday badge to your post.
Link up your post at AllThingsFadra.com
Visit your fellow bloggers and show some love.
Julie Jordan Scott has been a Life & Creativity Coach, Writer, Facilitator and Teleclass Leader since 1999. She is also an award winning Actor, Director, Artist and Mother Extraordinaire. She was twice the StoryTelling Slam champion in Bakersfield. She teaches a teleclass/ecourse "Discover the Power of Writing & Telling Engaging, Enlightening Stories" which begins again April 19, 2012. Find details by clicking this link.
Did you enjoyed this essay? Receive emails directly to your inbox for Free from Julie Jordan Scott via the Daily Passion Activator. One inspirational essay and poem (almost) every week day. Subscribe here now -
Subscribe to DailyPassionActivator
Powered by us.groups.yahoo.com