Today's (Optional) Writing Prompt: What causes you anxiety? Not just stress but true anxiety. How does your body and mind generally deal with it? How do YOU deal with it?
It is interesting, this anxiety topic.
My daughter and I joke about our anxiety. She has actually been diagnosed with General Anxiety Disorder – she is open about it, I am not infringing upon her privacy in saying it. I have been diagnosed with Depression but feel like it is actually General Anxiety Disorder wearing a Depression Mask – that the stuff of depression is actually a symptom of Anxiety.
And no, people – to the rest of the world I am seen as slightly quirky and quite a bit of fun, but most people wouldn't usually suspect my depression or my social anxiety disorder. I am an actor. I am a performance poet. I am outgoing and occasionally I am even the life of the party.
I also have a prevalence towards fear that seems so not-based-in-reality and it spirals out of control like a dust devil in my mind. I can usually dance with it, I prefer tango, but there are times when it sweeps me away in more of an improv style dance that makes me dizzy.
Last night I was watching the Chick Flick The Vow at the cheapo theater. I have an old lady crush on Channing whatever his name is. Who names their sons Channing, anyway?
The character played by Rachel McAdams said, "I hope someday you find someone who loves you like you love me," and from there, I spiraled.
I cried in realization that I have yet to be loved the way I have loved.
Do any of us, really?
I cried then in worry, "Do my children feel loved?" and "How many bajillion ways have I screwed up my kids?" and "Why do my children have to have such a rotten failure as a mother?" I started crying and pretty much kept crying for the next hour or so. Not big sobbing pound on my chest wails, but true, scary, "What if?" wails that emanate deep within me that are only allowed out when I am unsuspectingly broadsided like I was last night.
So, is this true anxiety or is it just stress? (warning, this is when I got up to brew some green tea and my thoughts ran away asking this question… so to complete it I went over my five minutes and visited Merriam-Webster and now will give myself sixty seconds to come to a conclusion… or at least further dialogue with myself!)
Anxiety = painful or apprehensive uneasiness of mind usually over an impending or anticipated ill
Stress = constraining force or influence: as a physical, chemical, or emotional factor that causes bodily or mental tension and may be a factor in disease causation.
Anxiety, my friend Merriam says, is uneasiness of mind about something, usually for me it is something I perceive as "monumental" like failing as a mother, which I see as the most important task in my life. Again, the average people observing me as a mother would rarely label me a failure as a mother, but it remains one of my biggest causes for anxiety. Maybe it is because I love my children so much and hope their path is less painful and less anxiety filled than mine was – with or without a mental health diagnosis. J
If it wasn't significant to me, there wouldn't be anxiety though there may be stress.
I also think anxiety is more often the result of "broadsiding" when stress comes from making choices to take on a lot of stuff, for example, and the resulting force or influence of those commitments causes the stress to rise.
I deal with both by talking with friends. I deal with anxiety through breathing, asking (and living) into whatever questions are perplexing me. With stress, it is more about making a list and checking those things off without concern for other niggling tasks that pop up. Stress needs me to wear blinders and "get 'er done now".
And that, my loves, is the end of these five plus minutes! That green iced tea will taste great, I am sure!
  This was my 5 minute Stream of Consciousness Sunday post. It's five minutes of your time and a brain dump. Want to try it? Here are the rules…
Set a timer and write for 5 minutes.
Write an intro to the post if you want but don't edit the post. No proofreading or spellchecking. This is writing in the raw.
Publish it somewhere. Anywhere. The back door to your blog if you want. But make it accessible.
Add the Stream of Consciousness Sunday badge to your post.
Link up your post at AllThingsFadra.com
Visit your fellow bloggers and show some love.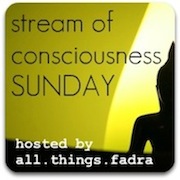 Julie Jordan Scott has been a Life & Creativity Coach, Writer, Facilitator and Teleclass Leader since 1999. She is also an award winning Actor, Director, Artist and Mother Extraordinaire. She was twice the StoryTelling Slam champion in Bakersfield. She teaches a teleclass/ecourse "Discover the Power of Writing & Telling Engaging, Enlightening Stories" which begins again April 19, 2012. Find details by clicking this link.
Did you enjoyed this essay? Receive emails directly to your inbox for Free from Julie Jordan Scott via the Daily Passion Activator. One inspirational essay and poem (almost) every week day. Subscribe here now -
Subscribe to DailyPassionActivator
Powered by us.groups.yahoo.com