Today's prompt wasn't one that caused an immediate: "Yes, Yes, I'll blog about that!" chorus, racing around the musicality of my mind. Instead I thought, "There is nothing I don't blog about" and went about some of my early morning routines. The "untalkaboutable" that came to me so strongly as I did some early morning art work is one that is difficult to write and talk about on multiple levels. I'm taking a deep breath now....


Today's (Optional) Writing Prompt:  
What are some things you wish you could blog about but can't?
I can barely talk about it. The idea of blogging about it makes it even worse.
What if one of those people reads it?
The thing about blogging is it is inherently risky. Anyone out there may read your words.
I remember back when people started to publicly let me know they were reading my blog about eight years ago. It is great to have an audience, but another part of me cringes and tries to be protective.
I used to have a tough time writing poetry about autism. It hurt too much. Poetry tends to pierce, anyway, so I just couldn't bring myself to be so sparce and so truthful with so few words.
Lately my big blogging no-no is talking about how much I miss church.
The majority of my friends do not attend church and think most Christians are nutty, dogmatic, over-the-top lunatics who gasp loudly with judgment every time someone accidentally burps aloud. I am serious: it is frightening. I have more than one friend who isn't a Christian who tells me I am their only Christian friend. I am the only "normal" one they say.
Yet among my Christian friends, I don't exactly feel welcomed, especially if I tell them what I really feel about the way they have taken Christ's message and spun it according to their very human needs and agendas.
Nonetheless, I miss worshipping in community. I miss the hugs, the smiles, the encouragement.
I miss those who are sincere.
I miss the earnest expressions of faith.
I miss those who do question and are intellectually curious.
I miss the meaningful discussions that sometimes arose during Bible Study.
I need to find a congregation who truly knows the meaning if "love one another" and "the greatest of these is love".
Well, I've said it.
If some of my former church family happen upon this post, I miss many of you.
I wish I felt comfortable returning.
This was my 5 minute Stream of Consciousness Sunday post. It's five minutes of your time and a brain dump. Want to try it? Here are the rules…
Set a timer and write for 5 minutes.
Write an intro to the post if you want but don't edit the post. No proofreading or spellchecking. This is writing in the raw.
Publish it somewhere. Anywhere. The back door to your blog if you want. But make it accessible.
Add the Stream of Consciousness Sunday badge to your post.
Link up your post at AllThingsFadra.com
Visit your fellow bloggers and show some love.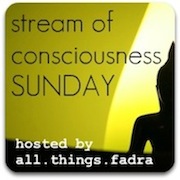 Julie Jordan Scott has been a Life & Creativity Coach, Writer, Facilitator and Teleclass Leader since 1999. She is also an award winning Actor, Director, Artist and Mother Extraordinaire. She was twice the StoryTelling Slam champion in Bakersfield. She teaches a teleclass/ecourse "Discover the Power of Writing & Telling Engaging, Enlightening Stories" which begins again April 19, 2012. Find details by clicking this link.
Did you enjoyed this essay? Receive emails directly to your inbox for Free from Julie Jordan Scott via the Daily Passion Activator. One inspirational essay and poem (almost) every week day. Subscribe here now -
Subscribe to DailyPassionActivator
Powered by us.groups.yahoo.com
(C) 2012 Julie Jordan Scott