I always enjoy AllThingsFadra's  Stream of Consciousness adventures that find me most Sunday mornings. I am grateful the prompt today was so powerful ~ my overflowing plate left me very little time this morning before I step into costume and cavort around the stage at Stars Dinner Theater (in this case, lunch theater.) Sunday crowds tend to be attentive but quiet. The thought of giving my all for fewer laughs than usual after closing a different production and attending a party until after 3 am is not... well.... all that appealing right this moment.
Thankfully, Fadra threw her dice and rolled up a prompt about.... being in the prime of one's life. I didn't get to the legacy part. I'll save that for later this week.
Write on, everyone!
Today's (Optional) Writing Prompt: Have you reached the prime of your life? What do you want to be your legacy?
It seems aging is on the "Collective Mind" of the women I run across in my daily life.
There appear to be two camps of us: those who revel in aging and are proud of our approaching cronedom (or whatever stage we are going to next) and then there are the dragging out heels kicking, screaming, juvedirming and botoxing ourselves into continual adolescence.
I think I am onto something there: adolescent and arrested development to not realize the treasures that live in finally growing up.
Yesterday one of my friends who is in her seven-squared year confesses turning fifty is freaking her out. I turned fifty first, just a few months ago. It really is great, I tell her. She remains unconvinced. She is a grandma several times over and I have a ten year old and I have to convince her?
I have friends who will not admit their ages.
I tell people, proudly and pray I continue to do so.
Why? Because I have accomplished a lot and yet I feel like I am barely hitting my stride AND hitting my stride with plenty of time to go! I feel better now than I did at thirty-five and no I am not just saying that. I just got through a stint portraying a 19th century jailed prostitute, complete with corset and cleavage and coming on to whomever looked promising. Last night I offered my services to a young couple… promised the young girl I could teach him some things… if you know what I mean.
This is great fun! Sex, I am telling you only gets better as we get older. It certainly has for me!
Yesterday I also sat in a writing circle. It is an open group and the presence of a twenty-two year old young man was a bit of a change of pace. He was beautiful in spirit and in face so naturally I was scheming from our first conversation how to set him up with my daughter.
"Age is a state of mind," he said, smiling that languid smile of an almost-man on the verge of discovering whatever is right around the corner.
I believed him.
I could see on the faces of the other women they wished to believe him. Some of them did.
It felt refreshing to hear a cute young guy say it. Perhaps this is why Cougars are such a rage now: young men are open to our thirty & forty & fifty year old Woman Power.
Hmmm. Five minutes gone.
That was fun. I want to write more.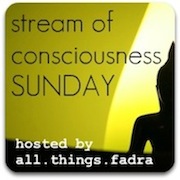 This was my 5 minute Stream of Consciousness Sunday post. It's five minutes of your time and a brain dump. Want to try it? Here are the rules…
Set a timer and write for 5 minutes.
Write an intro to the post if you want but don't edit the post. No proofreading or spellchecking. This is writing in the raw.
Publish it somewhere. Anywhere. The back door to your blog if you want. But make it accessible.
Add the Stream of Consciousness Sunday badge to your post.
Link up your post below.
Visit your fellow bloggers and show some love.
Now…
1. Grab the button (the one you see above or at Fadra's Blog)

2. Write your post.
3. Link up at AllThingsFadra.com
Julie Jordan Scott has been a Life & Creativity Coach, Writer, Facilitator and Teleclass Leader since 1999. She is also an award winning Actor, Director, Artist and Mother Extraordinaire. She was twice the StoryTelling Slam champion in Bakersfield. She teaches a teleclass/ecourse "Discover the Power of Writing & Telling Engaging, Enlightening Stories" which begins again March 22, 2012. Find details by clicking this link.
(Photo to the left by Michelle Guerrero, incredible photograher residing in Tehachapi, California.)

Did you enjoyed this essay? Receive emails directly to your inbox for Free from Julie Jordan Scott via the Daily Passion Activator. One inspirational essay and poem (almost) every week day. Subscribe here now -
Subscribe to DailyPassionActivator
Powered by us.groups.yahoo.com
(C) 2012 Julie Jordan Scott