For whatever reason Fadra's prompts are not only excellent at poking my interior geography, unearthing the "stuff" I had put aside and tucked under blankets of "not wanting to know" they also dare me to look more deeply, beyond these five minutes. Thank you, Fadra. If you would like to join the Stream-of-Consciousness-flow, visit here and follow the directions you will find there (and at the end of my post as well.)
Today's (Optional) Writing Prompt from AllThingsFadra.com 's Stream of Consciousness Sunday:
 Write about something that you unexpectedly had a hard time saying goodbye to.
I am writing this without having a path at all.
I have difficulty saying goodbye, period. Ideas, people, jobs, groups of people, toys, books, clothing, even allegiances which are no longer allegiances hurt me to say goodbye. Perhaps my reticence to say goodbye is actually the fear of the pain which MAY (or may not) come as a result of saying goodbye.
The first thing that popped into my mind was saying goodbye to my company car let's see, a ridiculous number of years ago: twenty one? Somewhere in that neighborhood?  If I were to look at the bare car itself, that may seem strange, but what is underneath it means so much more. Yes, it was a company car. Yes, it was brand new when I got it. YES, I went to many significant places.
When I gave it up, it was like giving away something tangible that represented the job I held when I had the car. It was like saying goodbye to a support network and an entire life.
That was what I was grieving. The car just represented it.
When I said goodbye to my job with the County let's see, eleven years ago? There were aspects that were tough to say goodbye to and I never actually had the luxury of saying goodbye to my beloved mentally ill clients. I didn't get to say goodbye to my peers, either, though before I went on leave I left them each a note of explanation.
I still miss my clients and wonder what happened to them, especially my favorites that no one else seemed particularly attached to at all. I had the (perhaps mistaken) belief that I was significant in a different way than anyone else.
When I said goodbye to my volunteer work at a group called Sharing Parents I felt guilty, like I didn't do my job well at the end. There are many people from there I never saw again. There are some people I see only rarely. The group died about two years after I left.
I want to go more deeply with this. Just last night I actually dug up some belated anger at my boss from the county. I went through a forgiveness of him exercise. I am not sure if it has stuck, though, so now I am writing a poem to continue to say goodbye to the hold this anger still has on a portion of my heart.
I don't perceive I will have a difficult time saying goodbye.
We'll have to wait and see.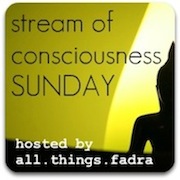 This was my 5 minute Stream of Consciousness Sunday post. It's five minutes of your time and a brain dump. Want to try it? Here are the rules…
Set a timer and write for 5 minutes.

Write an intro to the post if you want but don't edit the post. No proofreading or spellchecking. This is writing in the raw.

Publish it somewhere. Anywhere. The back door to your blog if you want. But make it accessible.

Add the Stream of Consciousness Sunday badge to your post.

Link up your post at AllThingsFadra.

Visit your fellow bloggers and show some love.
Now…
1. Grab the button from Fadra's site
2. Write your post.
3. Link up
  Follow me on Twitter: @JulieJordanScot
Did you enjoyed this essay? Receive emails directly to your inbox for Free from Julie Jordan Scott via the Daily Passion Activator. One inspirational essay and poem (almost) every week day. Subscribe here now -
© 2012
Julie Jordan Scott