Today's Stream Of Consciousness Sunday Writing Prompt:
Define the season of your life at this very moment.
Here we go…
I expected it, my life, to be different than it is, but isn't that true of every season of my life so far?
Once I left college and the "pre-programming" of the march through an education, things sort of meandered away on their own. I did the expected climb the corporate ladder, get a great job with fab benefits, drive the company car, buy the house. And then when my first daughter was stillborn when I was 28 all bets were off. Life continued.
I stayed my mostly optimistic self, but there have been more dark moments than I would have planned. Now I even relish those dark moments as hallmarks of growth and development, both personally and spiritually. I wouldn't actually choose them, though. Who in her right mind says, "I choose stillbirth, I choose depression, I choose more than one hundred consecutive days of crying"? Not me.
Here I am, in this season. Emma is a freshman in high school. Right this moment she is having a friend over for a singing lesson. This is a change, a very positive change. She has hosted several friends this year, even after a very rocky start in school. She was homeschooled for 7th and 8th grade after a tumultuous 6th grade year.
The first week of high school was tough to say the least. She cried four of the five days, horrified she would never find friends and never fit in.
She hung in there and now is very happy at school. She is a hit on the student newspaper, being the only freshman whose photo accompanies her monthly column. Most importantly, other kids like her and seek her out.
Last year at this time Samuel was floundering in his fourth grade class. He has high functioning autism and until then, had flourished in a general education setting.  He was miserable, also crying almost daily, only his was a silent, hidden crying. He suffered in his previous school until early May  until we transferred him to a school closer to home with a high functioning autism program.
It didn't fit him because he was too high functioning for it, but the hope was the milieu of the campus itself would be better. Early in fifth grade we transitioned him back into a mainstream setting. He is doing well, there. He is liked. He even represented his class in the school-wide spelling bee. He earned it over all his "normal" classmates.
I haven't done much differently this season.
I took a nine-month-theater-sabbatical, but I am currently back at it with two shows opening Friday night. I have two matinees next Sunday. This is crazyness! By Sunday night, I will crawl into bed and perhaps sleep until Tuesday. I would if I could!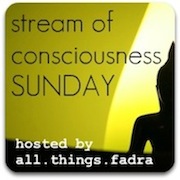 This was my 5 minute Stream of Consciousness Sunday post. It's five minutes of your time and a brain dump. Want to try it? Here are the rules…
Set a timer and write for 5 minutes.

Write an intro to the post if you want but don't edit the post. No proofreading or spellchecking. This is writing in the raw.

Publish it somewhere. Anywhere. The back door to your blog if you want. But make it accessible.

Add the Stream of Consciousness Sunday badge to your post.

Link up your post at AllThingsFadra.com


Visit your fellow bloggers and show some love
Follow me on Twitter: @JulieJordanScot
Julie Jordan Scott has been a Life & Creativity Coach, Writer, Facilitator and Teleclass Leader since 1999. She is also an award winning Actor, Director, Artist and Mother Extraordinaire. She was twice the StoryTelling Slam champion in Bakersfield. She teaches a teleclass/ecourse "Discover the Power of Writing & Telling Engaging, Enlightening Stories" which begins again March 15, 2012. Find details by clicking this link.
Did you enjoyed this essay? Receive emails directly to your inbox for Free from Julie Jordan Scott via the Daily Passion Activator. One inspirational essay and poem (almost) every week day. Subscribe here now -
© 2012
Julie Jordan Scott